In 2011, I blogged about Richard Petty's win at South Boston Speedway on October 20, 1963 as part of my year-long 200 Wins series. At the time, I didn't have much to use. I included a "just the facts ma'am" paragraph or two about the win plus an article. Then a couple of weeks ago, Dave Fulton hit a treasure trove of info when he found some scanned archives of the South Boston Gazette-Virginian newspaper. Sure enough, the available issues included the time period for some of the King's successes at South Boston. I edited my original post to include a lot of clippings from the old paper. Here is the link to my blog post, and I'll post the content here as well:
http://bench-racing.blogspot.com/2011/10/october-20-this-day-in-petty-history.html
Richard Petty collects his 27th career victory by winning the caution-free South Boston 400 at South Boston Speedway in car #41. Teammate Bob Welborn finishes 4th in a #42 Petty Enterprises Plymouth.
Jack Smith of Spartanburg, SC won the pole in his self-owned Plymouth. G.C. Spencer from Owensboro, KY and later Jonesboro, TN qualified second in a second Plymouth owned by Smith. Race favorite Junior Johnson lined up third in Ray Fox's Chevrolet, and he was flanked in fourth by Petty. -Gazette Virginian, October 22, 1963
At the drop of the green, a broken oil line ruined Smith's day before it really even began. The field accelerated, but Smith's car simply wouldn't go - even with a push from 3rd place starter Johnson. Petty spun in Smith's oil and recovered, but no caution was thrown. -Gazette Virginian, October 22, 1963
G.C. led the first 8 laps before surrendering the lead to Billy Wade in Cotton Owens' Dodge. Wade held serve for 4 laps before Johnson got around him and settled into a long stretch on point. Meanwhile, Petty resumed his pursuit of the leaders after his spin and half-lap deficit. By lap 30, the blue 43 had made it all the way back to second.
On lap 113, Petty eased under Johnson's Chevy to take the lead - a lead he wouldn't surrender the rest of the day. -Gazette Virginian, October 24, 1963
As he built a comfortable one-lap lead on second place running Johnson, the Petty Engineering crew then had to do their job well to ensure Richard stayed up front. The 41 pitted once during the race, and the crew nailed the stop.-Gazette Virginian, October 22, 1963
About half-way through the 400-lap race, Johnson hit the pits for what was thought to be a routine stop. Instead, his crew realized he was absolutely spent and could not continue. The team parked the car, and Johnson was done for the day. At many tracks, other drivers were often called upon to relieve a fatigued driver. Apparently none were available that day at South Boston.
With his most formidable challenger sidelined from exhaustion, Petty cruised unchallenged the second half of the race. He took the checkers three laps ahead of second place finisher David Pearson. Joe Weatherly, who was battling Petty for the 1963 GN championship, finished 3rd. Petty's teammate Welborn earned the team double chicken-money with his fourth place finish. -Gazette Virginian, October 24, 1963
Race report shared by Jerry Bushmire.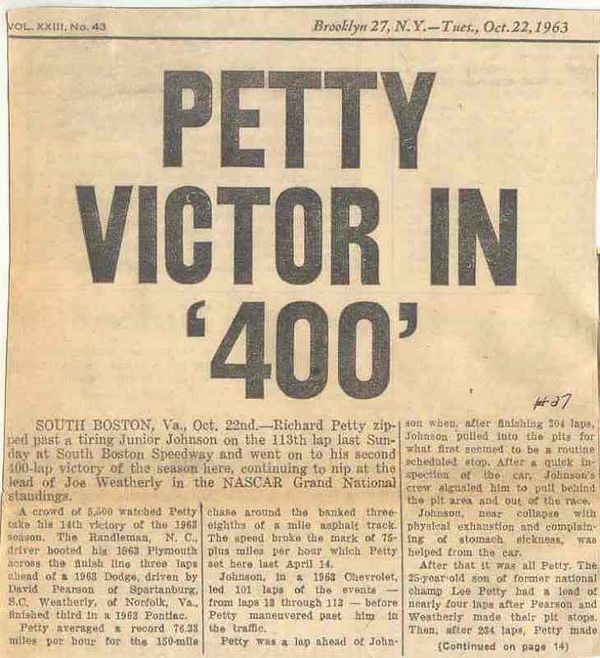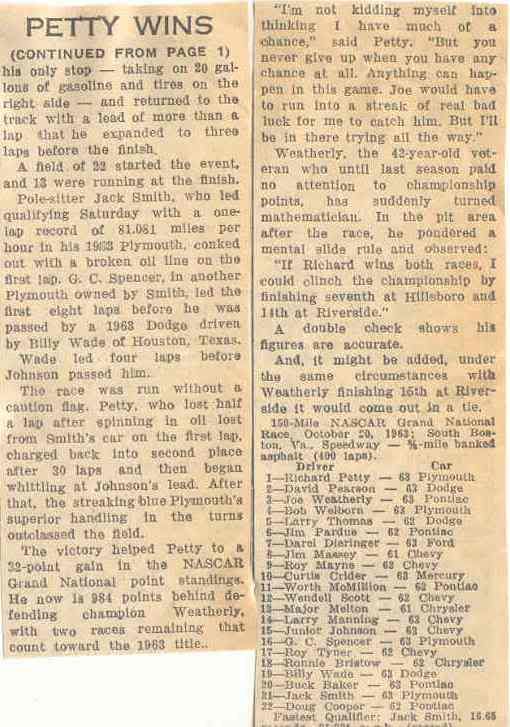 --
Schaefer: It's not just for racing anymore.
updated by @tmc-chase: 12/05/16 04:00:58PM