The front page headline of the January 28, 1965 Daytona Beach Morning Journal announced plans for an all out assault with a "stock" car by master mechanic Ray Fox and hot shoe driver Lee Roy Yarbrough on the world closed course speed record. It had been set at Daytona by drag racer Art Malone in the winged Mad Dog IV built by Charlotte's Bob Osiecki.
The story was carried above the mast head of the Daytona front page.
With time on his hands after the announcement of the Chrysler boycott, Fox figured this would give him something to stay busy with.
As pointed out in the story from the web site, Mac's Motor City Garage, the effort proved that Smokey Yunick didn't run the only damn garage in Daytona!
Oh, yes.... the car number was #3!! Dale Earnhardt was 13 and the Dillon brothers hadn't been born!

Ray Fox and the hemi swamp monster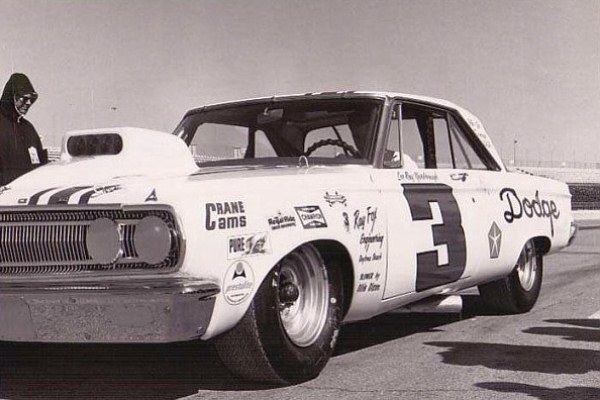 Part NASCAR stocker, part NHRA funny car, this Dodge Coronet built by Ray Fox used a supercharged, fuel-injected 426 hemi to set the worlds closed-course speed record in 1965.
Smokey Yunick didnt run the only damn garage in Daytona Beach. A half-mile south of Smokeys place, on the opposite side of the foot of the Seabreeze Bridge, Ray Fox ran his shop, Ray Fox Automotive. Both shops were hard up against the swampy Halifax River, encouraging the occasional alligator to wander in.
Like Yunick, Fox was a fast, shrewd race car builder as well as a garage operator. In 200 NASCAR Grand National starts as a team owner, he scored 14 wins and 62 top fives, with drivers including Junior Johnson, Buddy Baker, and LeeRoy Yarbrough.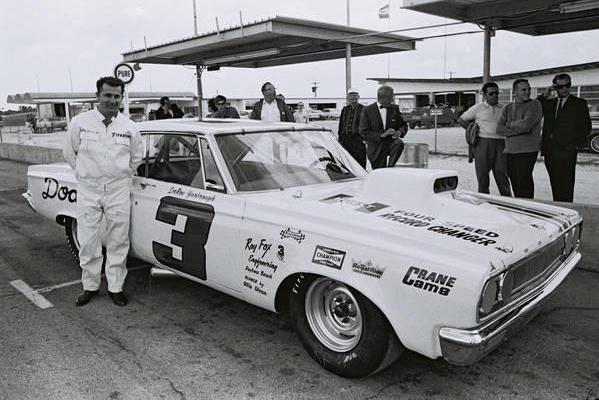 For 1965, Fox and Yarbrough were parked on the sidelines thanks to Chryslers boycott of the Grand National season, precipitated when NASCAR boss Bill France banned the 426 hemi engine the previous October. All dressed up with a brand new 65 Coronet and nowhere to go, Fox decided to modify the car to take a stab at the worlds closed-course speed record at Daytona International Speedway, a few miles up the road.
At the time, the mark was 181.561 mph, set in 1961 by Art Malone in Bob Osieckis Mad Dog IV. An old Kurtis-Kraft Indy roadster in which Osiecki had crammed a supercharged 413 Chrysler, Mad Dog sported an implausible-looking pair of upside-down wings and a giant aluminum tailfin.
Fox figured he wouldnt need to go to such outlandish lengths. The previous years pole speed at the Daytona 500 was nearly 175 mph, and Fox had seen Yarbrough top 176 mph with their 64 Dodge hemi in practice laps. With a few choice upgrades, a Grand National car ought to be able to best Mad Dogs speed.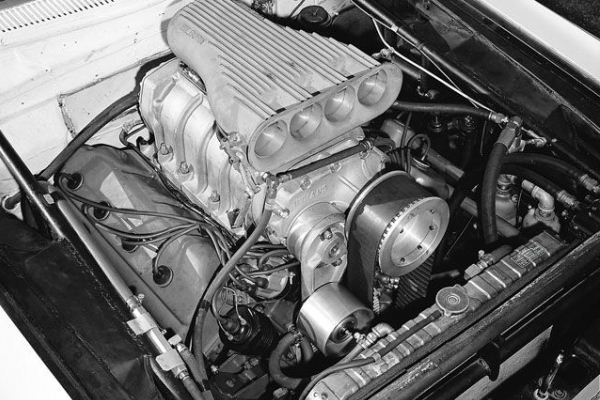 Above is the main upgrade. Fox assembled the monster 426 Hemi, with West Palm Beach drag racer Ollie Olsen providing assistance on the GMC 6-71 blower and Hilborn fuel injection setup. For sustained high speeds on the big, high-banked oval, Fox built two auxiliary circuits driven by electric pumps, one for the fuel injection and the other for the cooling system.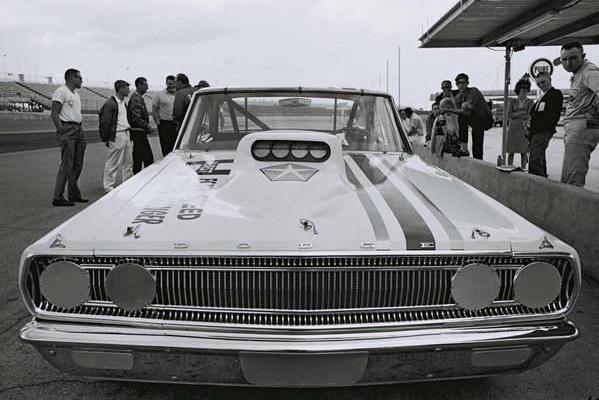 A foot-tall doghouse on the hood was required to clear the big blower and bugcatcher. For reduced drag and safer handling, Fox dropped the nose of the Dodge down over the big Firestone tires as low as it would go. Tail straight out and belly to the ground, Southerners might say.
All that remained was for driver Yarbrough to take the monster out on the track and give its tail a pull. And that he did on February 26, 1965, two weeks after the Daytona 500. On a dirty, sandy track with a mean crosswind, Yarbrough stood on the gas and ran 181.818 mph, just nicking Malones record. For their efforts, Fox and Yarbrough collected a big plywood check for $10,000 from Big Bill Franceand a lasting place in racing lore.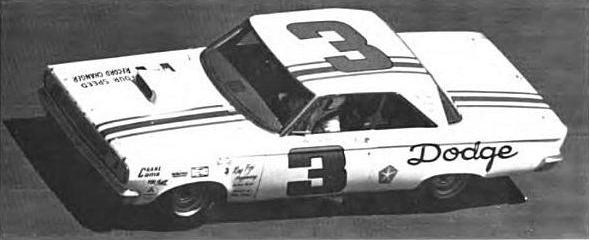 LeeRoy Yarbrough at speed
Left to right: builder Ray Fox, driver LeeRoy Yarbrough, sponsor George Hurst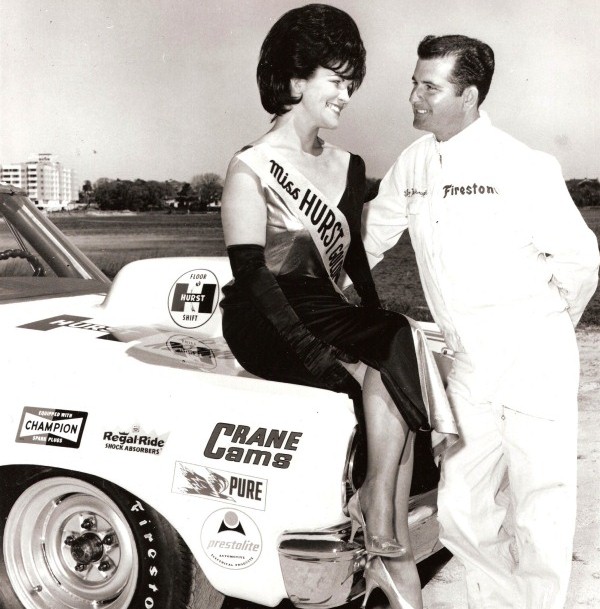 LeeRoy Yarbrough with Miss Hurst, Pat Flannery Stephens
--
"Any Day is Good for Stock Car Racing"
updated by @dave-fulton: 12/05/16 04:00:58PM