Mack Hyatt with owners and crew
Mack Hyatt- Keith Smith Photography, Fayetteville, N.C.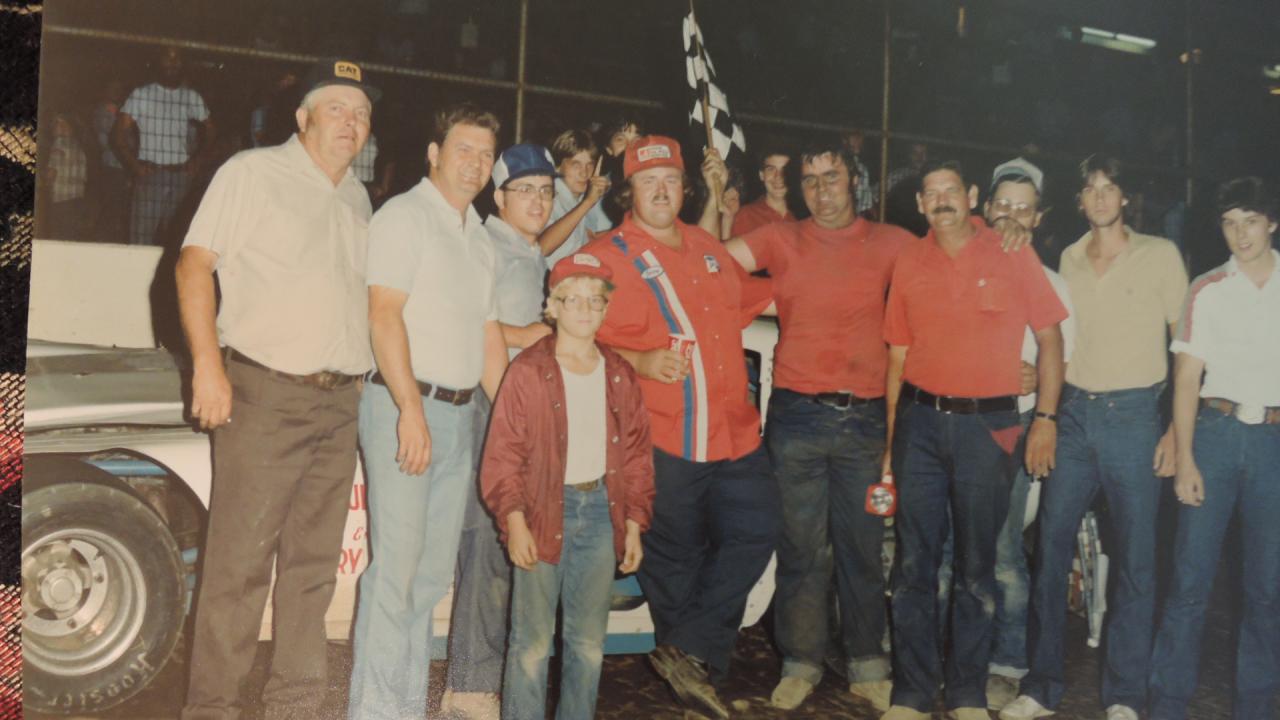 UPDATE - Tony Rich, son of Mack Ray Rich, standing far right has carried on his fathers logging business and has confirmed that he does remember David Boggs driving car 98 at least once. Tony's brother Rodney sadly passed away in 2013. Rodney was only in his mid 40s and built late model race cars in the shop behind his fathers house. Rodney is standing just over Mack's Hyatt' s right shoulder in the orange shirt. Carl Smith passed away in 1989 at the age of 53 due to complications of kidney failure. Mack Ray Rich was in a terrible logging accident that has left him confined to intensive care. Mack Hyatt retired from racing in 1988 and was only in his late 30s. In talking to Timmy Neighbors, he said his father Jimmy Neighbors also drove the car a few times at Fayetteville and Wilson. The race that has kept me puzzled was the 1983 race in April on a Sunday afternoon at Pender County. The announcer said David Boggs was driving car #98 this day. Tony looked at the video of the driver getting out of the car and said it definitely was not Mack or Jimmy. Furthermore, Mack and Jimmy have no recollection of the day race at Pender County. Tony says it looks almost certainly looks like David climbing out of the car, however, David says he has never seen this car. (That is still the 1 percent mystery), maybe he forgot. Pictured is Mack Hyatt with owners and crew after a win at New Fayetteville Speedway. Co-Owner Mack Ray Rich is second from left. Engine builder Jerry McClamb, owner of Durabilt Engines is wearing striped shirt. Mack Hyatt is holding checkered flag and Co-Owner Carl Smith is standing next to Mack. Carl's son, Carl Dale is wearing the tan shirt. Charles Smith, brother of Carl was one of the owners and is standing extreme left. The car 98 Camaro was owned by Carl Smith, Charles Smith and Mack Ray Rich from the community of Cypress Creek in Garland, N.C. It started life as a 6 cylinder with Tommy Thompkins driving and Mack won the first race when he drove it in the 6 cylinder division at Dublin. Carl and Mack Ray bought Mack Hyatt's 1980 Nova and took the V8 engine out and put it in the Camaro. The Camaro was a fiberglass body mounted on a Warhorse 2x3 tube Chassis. The chassis had coil springs all the way around and was built by a guy that used to work for Howe racing. The front end geometry had new trick suspension that had never been tried before. The engine was a destroked 400 built by Jerry McClamb of Durabilt engines from Coats, N.C. Later the Camaro body was removed and a wedge body was fabricated. Mack Ray was in the logging business and Carl was a farmer who would work in the fields until dark during the week. On some occasions the car wouldn't arrive at the track until after qualifying was over forcing Mack to try and win the race after starting from the back of the pack. The car was not kept in a fancy shop like most teams have today. It was kept in an open on both ends building. Several plastic nose pieces were ordered for the car and Mack was told to be careful and not tear up the nose when they got down to their last one. Pretty amazing story for this little white Camaro that was competitive with the likes of Jimmy Edwards and Tom Usry in their fancy wedge late models especially on this April 1983 Sunday afternoon at Pender County Speedway. Photo taken by Keith Smith Photography, Fayetteville, N.C.