What nearly became the end of Petty Engineering became the start of the greatness of Petty Enterprises.
In the first 100-mile Daytona qualifying race, Richard left the yard - sailing over the wall. For the most part, he escaped unscathed. But shortly after leaving the infield care center, he heard that his dad and primary breadwinner for Petty Engineering, Lee Petty, had also sailed out of the track.Coincidentally, Johnny Beauchamp - who Lee battled to the finish line 2 years earlier in the inaugural Daytona 500 - sailed over the wall with him.
Lee was critically injured and required months of hospitalization and therapy. Richard, Maurice, Dale Inman, and the crew had to haul home 2 wrecked race cars, no purse winnings from the 500, no hands-on leadership from Lee, and little clue as to where to go from there.
The Petty team could have folded right then and there. But with encouragement by Lee and hard-work ethic by Richard and Maurice, the team pressed on. Other experienced drivers including Jim Paschal and Buck Baker were instrumental in racing as teammates with Richard who was still trying to develop as a racer. Over time, Petty Enterprises thrived.
The Daytona crash ended for the most part the competitive racing of Lee AND Beauchamp. Lee only raced a couple of times after healing. And from what I can tell, Beachamp never did return - at least not to NASCAR Grand National racing.
Richard's car on the wrong side of the track (Jim Wilmore picture)
Lee and Beauchamp in their "Uh oh - this is bad, this is bad" moment (TMC picture):
Scrap left of Richard's car (CharginCharlie Putzer's pic)
Scrap of Lee's car (Ron Wetzler picture)
And what was left of the 42 to haul back to Level Cross (CharginCharlie Putzer pic)
I'm always stunned to see those 2 cars sail over the turn 4 wall. Having been to Daytona (though not since 1997), I can envision hospitality areas, parking, souvenir trailers, etc. perhaps being there now where Lee and Beauchamp came to rest back in 1961. Just amazing.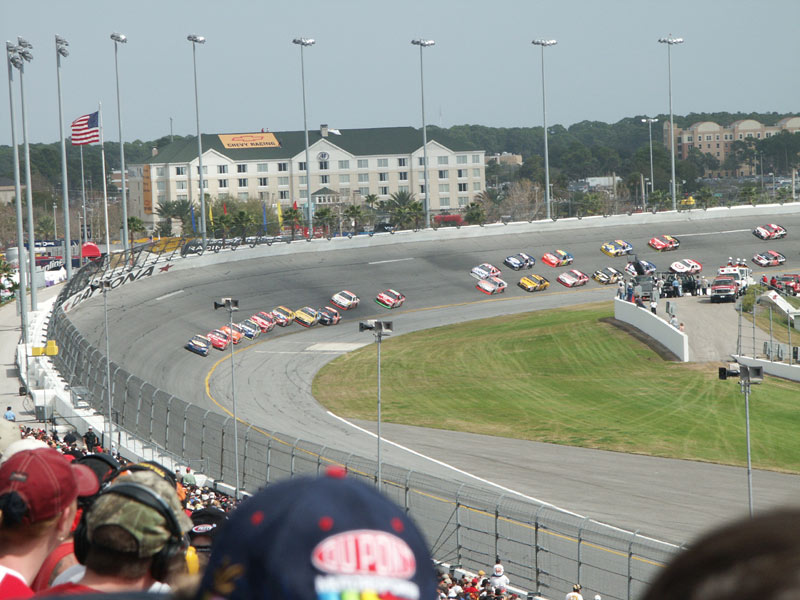 TMC
--
Schaefer: It's not just for racing anymore.
updated by @tmc-chase: 02/22/18 05:57:05PM